http://branch.podomatic.com/
PROPHECY HOUR: STEALTH INVASION, INFECTIOUS DISEASE CAUSED BY SO-CALLED 'REFUGEES'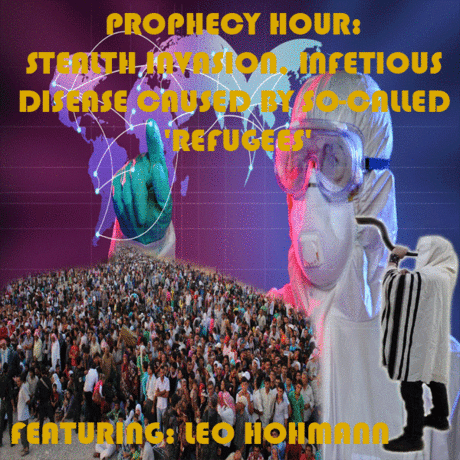 PROPHECY HOUR: STEALTH INVASION, INFECTIOUS DISEASE CAUSED BY SO-CALLED 'REFUGEES'
LEO HOHMANN
"Stealth Invasion"
http://wndbooks.wnd.com/stealth-invasion/

Minnesota (USA) pays out millions every year in welfare for refugees, secondary costs that never get tabulated. In fiscal 2017, which ended last last week, the state spent $1.5 million to combat three infectious disease outbreaks — including the largest measles outbreak in 30 years, which swept through in the Somali refugee community.
Dr. Ed Ehlinger, Minnesota Health commissioner, told the Star-Tribune his department will need another $600,000 for fiscal 2018 to help control the spread of measles, drug-resistant tuberculosis and syphilis.
Most refugees in Minnesota are resettled by either Catholic Charities or Lutheran Social Services.
"Suffering Minnesotans are expressing concerns and asking questions," Anderson said.
Right now we are hearing things like
CIVIL WAR IS COMING: Germany now joins France as citizens from both countries flood the streets in rage against Islamic immigration PIPO NEWS
UN: admits Seven out of 10 migrants crossing to Europe are not refugees | World | News | Express.co.uk
Another do not Miss End-Time Radio program as
"We are Warning the World as it HAPPENS!"
Please visit
www.prophecyhour.com

Also please visit
www.wichitahomeless.com

"Remember we do not 100% agree with everything our guests, say, do, or believe. It is up to you to pray and sort it out!"